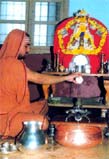 Param Pujya Srimad
Raghaveshwar Bharati Mahaswamiji
Sri Ramachandra Pura Matha,
Hosanagar
Ramachandrapura Mutt
Haniya post,Hosanagara Taluk,Shimoga,Karnataka.
Phone (08185)56050/56048
E-Mail: srimata@vsnl.com
website : http://shreebharathi.org
The socio-religious influence of Ramachandrapura Matha is spread over Malnad, Dakshina Kannada, Uttara Kannada and portion of Kerala. The earliest known stone inscription so far found in Ramachandrapura Matha at Tirthahalli dates back to Sake 1311(A.D.1389).There was a relation between Ramachandrapura Matha and Vijayanagara Empire. About twelve hundred years ago, Sri Adi Shankaracharya established four principal Mathas, at four different parts of India Sringeri in the South, Badari in the North, Dvaraka in the West and Puri in the East. He chose these places probably for the beauty of their natural environment, amidst snow-clad mountains, forests and rivers or on the sea shores - places where heaven and earth meet and transcend man's thoughts to sublime heights.

He placed Sri Sureshwaracharya as the head of the Matha in Sringeri, Sri Padmapadacharya in Dwaraka, Sri Totakacharya in Badari and Sri Hastamalakacharya in Puri. The establishment of these Mathas points to Sri Shankaracharya's realization of the physical and spiritual unity of India.

Sri Shankaracharya toured with his beloved disciple Vidyananda. He visited Gokarna, which was a center of pilgrimage at that time also. He stayed there for sometime and worshiped Bhadrakali, Mahaganapati, Mahabaleshwara and Atmalinga.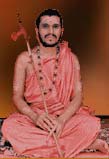 Param Pujya Srimad
Gangadharendra Saraswati Mahaswamiji
Sri Sonda Swaranawalli,
Mathadeval Post, Sirsi ,
Karnataka - 581 336
Sonda or Swadi is a place of historical and cultural impotance. It had once been ruled by the Nayak dynasty. Only 1.5 Kms. from here is Shankarnarayan Swamy Temple admits forest.Swarnavalli or Honnavalli Math is another attraction of Sonda. The Math is believed to have been founded by hi Holiness Bhaskarendra Saraswathi at the instance of Adi Shankaracharya, the pioneer of Advaita philosophy. Hard by Sonda is a place called Saharsralinga where hundreds of beautifully carved Shivalingas are scattered in the water of the water of the river Shalmala.